Acura scored big when they introduced the True Touchpad Interface™. It has been all over automotive news as a newer and easier way to interact with your dash touchscreen. Unlike other dash systems that rely on a cursor, you're dealing with a "true" tablet-type touchpad interface that doesn't require you to first locate a cursor and then control the cursor. Instead, you're controlling the touchpad itself at the press of a button.
Introducing the Acura True Touchpad Interface™
This isn't just a new way of interacting with the dash entertainment system, but an entire infotainment system of its own that gives you Acura-exclusive features. It's a whole new reason to buy an Acura in 2019! Let's take a look at some of the rich features you have to look forward to when you opt for the True Touchpad Interface™.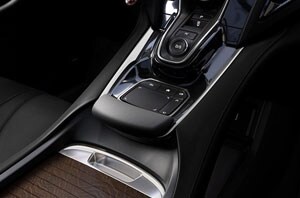 The RDX and future models from Acura will feature the True Touchpad Interface™. At the heart of the system is the 10.2-inch full-HD display with its brilliant colors and just absolutely beautiful appearance. It's mounted higher than other dash systems so that you can truly have a better view of what is one of 2019's most highly anticipated infotainment systems. This is considered "absolute positioning" in terms of touchscreens because you've got a mounted device directly in the driver's line of sight for once. And anyone who's ever struggled and wrestled with their touchscreen device will tell you how important it is for the driver to be able to command the infotainment system comfortably.
How Does The Acura Touchpad Work?
You have no cursors, just a tablet type interface that lets you command Apple CarPlay and Android Auto, along with a host of other apps, easily and without much thought. It's a natural interface that is feature rich and capable of both voice and handwriting recognition so that you can accomplish just about anything you need to accomplish while you're on the go in your Acura.
Learn More About True Touchpad
Acura is a reliable and truly engaging brand in today's world, and it has struck up some real magic with the True Touchpad infotainment system. We'd love for you to get a sneak peak at this! Please contact us today if you'd like to learn more about the Acura True Touchpad Interface™! Our friendly salespeople will be glad to share their knowledge of this revolutionary infotainment system.