If you have an Acura, the Maintenance Minder ensures that you'll never miss factory-recommended maintenance or service on your vehicle. This system calculates service intervals for your specific car or SUV depending on its mileage, which helps keep your Acura in optimal condition. Here are the service and maintenance codes you need to know.
Oil Life
This code is expressed as a percentage of the life of your car's oil. When you get an oil change, the minder resets 100 percent. From there, the onboard computer calculates oil life based on operating conditions, engine and ambient temperature, speed, time, and other factors. The Maintenance Minder light will be illuminated when oil life reaches 15 percent, signifying that it's time to schedule an oil change.
Main Codes
In addition to the oil life monitor, your Maintenance Minder will display either A or B when it's time for an oil change. With A, you only need to change the oil in your Acura. If B is displayed, you're also due for an oil filter change, tire rotation, front and rear brake inspection, parking brake adjustment, and other model-specific inspections and adjustments.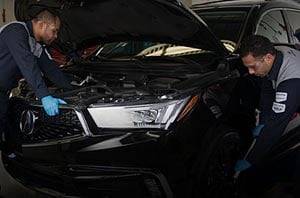 Subcodes
You might also see a subcode indication. These numbers indicate the need for further service as follows:
Tire rotation
Air cleaner element, drive belt, and dust and pollen filter service
Transmission and transfer fluid replacement
Spark plug and timing belt replacement; water pump and valve clearance inspection
Engine coolant replacement
Rear differential fluid replacement
When it's time to have your Acura serviced, visit our dealership for expert factory-trained maintenance. We will be happy to help you keep your car running for years to come