How to Use Acura Automatic Idle Stop
The more technologically advanced vehicles get, the more such an advancement includes innovations in engine performance and fuel efficiency. These days, more so than ever before, Acura consumers are concerned with how much they spend refilling their gas tanks. Thus, any form of technology that helps increase a vehicle's miles-per-gallon rating is welcome—and that includes an automatic idle stop.
Automatic idle stop, also known as automatic start/stop, maximizes fuel economy by automatically stopping the engine when the Acura vehicle comes to a stop and automatically turns it back on when the foot lifts off the brake pedal to get ready to press the accelerator. There's an auto idle stop indicator in the center of the multi-information display that turns green when the engine shuts off.
Idle stop technology is so named because it's meant to eliminate engine idling, which refers to the fact that without such a feature, the engine continues to run and consequently consume fuel when the vehicle is at a complete stop. With an automatic idle stop, the engine does not unnecessarily burn fuel, and this promotes better fuel economy.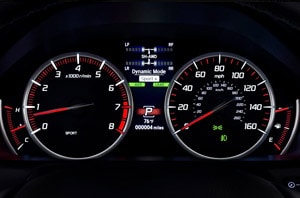 On an idle stop-equipped Acura vehicle, the engine turns off and the indicator turns green when the vehicle stops with the gear position in Drive and the brake pedal is pressed. When you release the brake pedal, the engine restarts and the vehicle begins to move. However, bear in mind that auto idle stop may not activate—or the engine may automatically restart—under certain conditions, some of which are provided below: The vehicle is stopped by braking suddenly, the vehicle comes to a stop again before the vehicle speed reaches 3 mph after the engine starts, and the 12V battery is low.
How do I Turn Off Automatic Idle Stop?
You can turn off the feature by pressing the auto idle stop off button, which can be found in the middle of the vehicle's dashboard. The auto idle stop indicator turns amber as a result. However, you can press the button again to turn it on. Also, the idle stop system is turned on every time you start the engine—even if you turned it off the last time you drove the vehicle.
Which Vehicles Have Automatic Idle Stop?
Automatic idle stop is available on the following Acura models: TLX (compact sedan) with Super Handling-All Wheel Drive, or SH-AWD, RLX (midsize sedan) with Advance Package, RDX (compact luxury crossover SUV), and MDX (midsize three-row crossover SUV).
Ready to try out our Acura models that have automatic idle stop technology? At our Acura dealership in Peoria, Arizona, we have dutifully served the people of the Phoenix metropolitan area since opening our doors in 2004. Go ahead and contact us today to set up an appointment with one of our Acura specialists.