Acura is a luxury automobile manufacturer where you'll find amenities around every corner, including sleek leather seats that mold to your body and chrome wheels that make an impression on those you pass. Most cars today come with infotainment systems and internal computers, and you must make sure to pay attention to software updates. Those updates will help your car perform the way you always imagined. Our dealership offers help for those who need an update. We want you to have all the pertinent information available to you before you stop by.
AcuraLink New Generation
The most important thing you need to know is whether you signed up for any subscriptions. Subscription packages let you get a little more out of your car. Most of these subscriptions are part of the AcuraLink New Generation system. The standard package includes cloud navigation that lets you get directions through your car's screen and access to streaming media. If you have the connect package, you can use your phone and other devices in your car and connect them all to the same screen. Acura also offers a premium package that lets you contact a concierge at any time of the day or night to get help.
AcuraLink First Generation
Depending on the year and model Acura that you own, you might have the AcuraLink First Generation system inside your car. This system comes with real-time traffic updates that help you keep an eye on traffic conditions and weather reports that tell you about any upcoming weather conditions. Both these features have real-time updates that will change as new information becomes available. The First Generation system can also come with satellite radio that lets you listen to all your favorite stations on the go.
Other Apps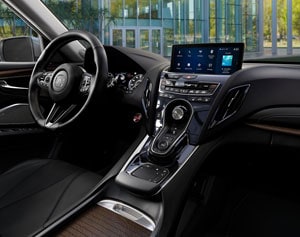 No matter which type of system you have, you can add other apps to your Acura. The Roadside Assistance app makes it easy for you to get help on road trips and anytime you're away from home. With one touch of a button, you can have gas delivered to you or call for a tow truck. The Acura Streams app lets you log into your Facebook account and post updates on the go and access any social media or streaming sites that you love. There is also a Virtual Tours app for those who want to check out some of these apps before they download and use one. Though most apps are compatible with vehicles from 2014 and later, others only work with newer models.
Why Get Software Updates?
If you ever tried using an old version of an app on your phone, you probably noticed that it didn't run right. An older version may suffer from bugs and glitches and limit what you can do. With an old navigation app, you might find that it sends you down roads that are closed and that it doesn't include any new routes that you can follow. It's important that you update the software in your Acura because those updates provide you with new information and content that you can use each time you get behind the wheel.
Get the Updates That You Need Today
Why put off updating the software in your car until tomorrow or next week? When you work with us, you can get access to everything that you need. The process of updating your software make take just a few minutes or up to an hour. When you have an Acura that needs a software update, stop by our dealership to get the help you need.