Welcome to your Acura dealership. We want to help you make the most of your new or pre-owned vehicle. Some of you have questions about how to use the Acura keyless entry. You also may wonder what to do if it doesn't work. If so, we're here for you.
The Way the Acura Keyless Entry Works
The Acura keyless entry system is either standard or an option on select trims of RDX, TLX, MDX, and others. When programmed in advance, your keyless entry will perform a variety of functions such as adjusting your seat or turning your radio to your favorite station – and, of course, unlocks your door. It also allows you to start your car with a push of a button.
Your keyless entry remote provides you similar functions when you leave your car. It also sets the interior climate when approaching your car with the remote in your pocket.
How to Use the Keyless Entry Remote
You can use your keyless entry remote from as far away as about 328 feet on Acura models that offer this feature. It usually just requires two steps: press the lock button and press and hold the engine button.
If you see a green light flash once on your remote, that means your engine did start. If not, you will see a red light. The red light can also alert you as you walk away from your vehicle if one of your doors – including your hood or tailgate – is open. An amber light will flash if you successfully have locked your door when you leave your vehicle.
What To Do if Your Keyless Entry Remote Doesn't Work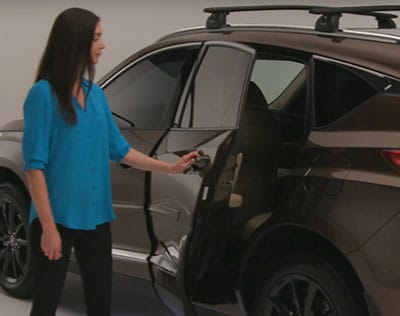 Perhaps you noticed that you cannot start your car from as far away as you used to, or the remote just does not work at all. First, check your remote battery. It may need a good charging. If the remote does not work after leaving it on the charger for about an hour, you may need to replace your battery.
Once you replaced your battery, the remote may need repair if it still doesn't work. This sometimes happens because of a spill. However, you may have other issues to address such as the brake pedal may be partly pressed down or the remote is not registered. These situations may require dealership assistance.
You also might notice other issues such as the security alarm being sounded unnecessarily or the doors will not lock. The vehicle manual provides further detail, but some key points include the following:
Make sure the car is in "park" and the brake pedal is not pressed.
Confirm that all doors including the hood and tailgate are closed and locked.
Make sure the battery is charged.
Of course, don't forget to take the remote with you, or hold a spare outside your car.
Your vehicle also may be still in the inhibition mode if it has been sooner than 10 minutes since you last started it. This inhibition time may also have increased if you changed it to another duration such as 20 minutes. In this case, you will have to open the car door with the key.
If you have any more questions about how to use your Acura keyless entry system, please contact our dealership.