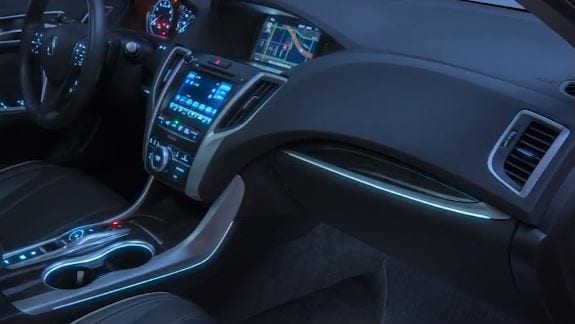 How to use the Ambient Lighting System in your Acura
Acura models with ambient lighting enhance the night time driving experience with illuminated accents along the door and cabin trim. Not only does the accent lighting add a splash of light to the interior, the ambient lighting also makes it easier to see in the cabin without making it too bright and distracting the driver. The ambient lighting will automatically activate whenever the headlight switch is in "auto" mode and it's dark outside. The ambient light accents illuminate when one of the doors is opened, or when the headlights or parking lights are on, illuminating your entrance or exit from the car.
How to Adjust Lighting Settings
You can adjust the brightness of the ambient lighting and instrument panel illumination using the brightness controls located behind the right side of the steering wheel. The brightness level of the instrument panel and ambient lighting are adjusted together using the "+" and "-" buttons.
Pressing the "+" button will increase the brightness of the ambient and instrument panel lighting and pressing the "-" button will decrease the brightness. A brightness indicator light on the Multi-Information Display shows the brightness level as you are adjusting. You'll hear a "beep" when it reaches its highest or lowest setting. If you prefer, the ambient illumination can be disabled using a switch located in the glove box. The interior dome lighting may also be disabled by a switch located in the glove box.
For more information about ambient lighting, consult the owner's manual or call Acura of Peoria. You are welcome to come into our Peoria dealership and one of our sales or service professionals would be happy to assist you.