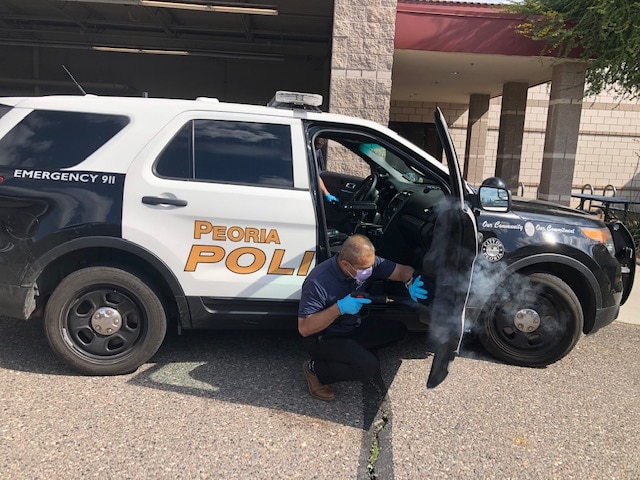 Now through the end of April 2020, we are offering free vehicle sanitization services to the public.
Acura of Peoria recently held an event to guard the safety of our local heroes. On Monday, April 13th, dealership staff were onsite at the Peoria Police Department, where they thoroughly sanitized all of the police vehicles. Two methods of cleaning/disinfecting were available, including a pure steam clean with 230 degree water and the application of a special antimicrobial treatment.
The event was held to show appreciation to our men and women in blue, and to help protect them against a new enemy that we all now face. While the threat of coronavirus impacts us all, our officers are put at even greater risk. For this reason, we were very excited to hold this event, which you can see additional photos of below!
"During these difficult times, Acura of Peoria is happy to be able to do this to help our community and our First Responders. This is just a small way for us to say THANK YOU for their on-going support," said Brijen Dave, Acura of Peoria's Managing Partner/General Manager.
"As we all battle against Covid-19, Acura of Peoria leapt into action to support our men and women in uniform, helping them to safely continue their work on the front lines," said Mayor Cathy Carlat. "When times are tough, selfless acts of kindness give us a ray of hope and we are grateful for the thoughtful generosity of Acura of Peoria during this critical time."
FREE VEHICLE SANITIZATION FOR THE PUBLIC
In addition to providing vehicle sanitization for our local officers, we're also now offering these services to drivers free of charge through the end of April 2020. We're taking many precautionary measures for those who visit, along with offering complimentary vehicle pick-up and delivery for service if you prefer not to visit the dealership.
During these trying times, we want to do our part to ease worry and help protect our community. Please contact us for details about our vehicle sanitization services and schedule yours today.