Acura heads off against Chevy in a true test of performance
For quite some time now, terms such as speed and power have been synonymous with the high-performance Chevrolet Corvette sportscar. The brand new 2020 C8 Corvette is no exception to its many impressive predecessors. But there's a new challenger on the block ready to take the stage and compete for best mid-engine supercar--the 2020 Acura NSX.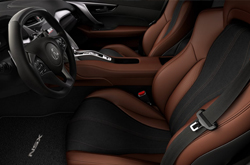 The NSX shows it has more than just style
The Acura NSX has been working for several years now since its return to the supercar market in 2017. While each model has its perks, the 2020 Acura NSX is here to make a statement. The 2020 NSX has shown that it is not just the best NSX model yet, but it can handily compete with the famed C8 Corvette.
At first glance, these cars share the classic mid-engine design, making them both incredibly balanced and stable. The C8 has a weight of 3647 pounds, and the NSX is heavier at 3878 pounds. The Corvette is also about 6 inches longer than the Acura. So, how do these things impact the overall performance of the cars?
The NSX's performance power is perhaps its most notable feature, giving it an edge over the Corvette. The NSX has 573hp and 476 lb-ft of torque. The C8 only has 495hp and 470 lb-ft of torque. Another very unique aspect of the NSX is its 3.5L twin-turbocharged V6 hybrid engine. The hybrid-electric motors that power the front wheels on their own make the NSX all-wheel drive. When compared to the Corvette's LT2 V8 engine, there is the more customary rear-wheel drive.
A test of speed
In terms of speed, the cars are reasonably well matched. Although the Corvette has a top speed three miles per hour more than the NSX, a respective 194 mph to 191 mph, the Acura beats the Corvette in acceleration. The combined gasoline engine and electric motors allow it to go 0 - 60 in 2.7 seconds. The Corvette: 2.92. It is only the beginning for these two mid-engine heavyweights, as a potential rivalry ensues.
If you'd like to learn more about the ongoing battle between the Corvette and NSX, you can contact us here or visit us at our Peoria dealership.