As a car owner, you have plenty to think about, and sometimes car maintenance falls to the wayside. Because of this, many drivers don't get their brakes checked, or repaired, in a timely manner, which can lead to expensive replacements, or worse, a dangerous accident. 
To help our customers stay safe on the road, Acura of Peoria has put together a brief guide on why brake service in the Phoenix area is so vital for both your safety and your budget.
How Do Brakes Work?
To understand why properly working brakes and their individual components play such an important role, it's best to understand how brakes work in the first place.
Basically, your brakes utilize a hydraulic system that uses brake fluid to trigger a set of calipers when the brake pedal is pressed. These calipers, with brake pads attached on the ends, press against a large disc called a rotor that, when squeezed by the calipers, will cause the car to stop.
What Can Go Wrong?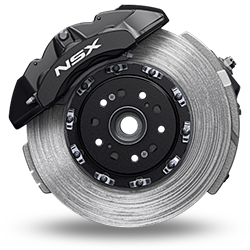 As you can see, there are several areas that might break down over time, including the car's brake pads. These become quite worn over a long period of use and require replacement every so often. On top of that, your brake hose could collapse or one of your calipers could become stuck, causing a host of issues that need immediate attention.
Due to this, many experts recommend getting your brakes checked around every 12,000 miles to ensure that your pads haven't worn down too much or that your calipers are functioning properly. At Acura of Peoria, our Phoenix-area service center provides certified brake service and repair, and we offer terrific brake service coupons that help keep maintaining your brakes affordable.
What Should You Look Out For?
There are several signs that your brakes are in need of service, so if you notice any one of these things, be sure to schedule an appointment with us right away! Common signs of brake wear include:
Squealing or screeching noises
A pulling of the car in one direction
A loud grinding sound
A loose-feeling brake pedal
The car takes longer to stop than normal
The steering wheel shakes while braking