Are You Wondering, Where Can I Find an Acura Transmission Specialist Near Me?
Acura is a quality brand that is known for its stylish SUVs, sports cars and sedans. When it comes to driving, this car offers unparalleled performance. If you own an Acura vehicle, scheduling maintenance for your transmission isn't optional if you expect your vehicle to remain in top condition. Regular maintenance can prevent your vehicle's transmission from becoming sluggish, making loud noises or failing. At our dealership, we have an Acura service center that can take care of your repair needs including transmission services. To schedule a prompt appointment, contact our service center team members or make an appointment online.
When Should I Change My Transmission Fluid?
Vehicle manufacturers make specific recommendations for transmission services. Not only does your vehicle's owner manual provide you with information about your vehicle's equipment, it provides you with service guidelines for your transmission. If you aren't familiar with the recommendations for your vehicle, you should take a few moments to learn about your transmission recommendations. By scheduling regular transmission service appointments, you can prevent major repair problems in the future.
How Do I Know If I Need a Transmission Repair Service?

There are several signs that you may notice when your transmission needs to be repaired. If you suspect a problem, one thing you can do is assess the condition of your transmission fluid. If it's dark or murky, this is an indication that your fluid should be changed. Other signs include your vehicle jerks when you shift gears, your transmission fluid has a burnt smell and your transmission fluid is leaking. As soon as you suspect that you have a transmission problem, you should contact our Acura service center immediately.
What Can I Do to Keep My Transmission from Failing?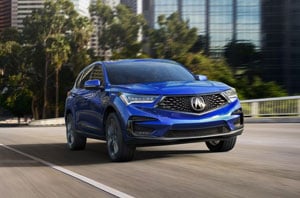 Although your transmission won't last forever, there are few things that you can do to ensure that it works properly for years to come. Only change gears when your vehicle is at a complete stop. Don't strain your transmission by driving on mismatched or spare tires for extended periods of time. If your vehicle isn't designed for towing, you shouldn't use it to tow trailers or other vehicles. Schedule routine maintenance services at Acura of Peoria.
Service Hours
Monday

7:00 am - 6:00 pm

Tuesday

7:00 am - 6:00 pm

Wednesday

7:00 am - 6:00 pm

Thursday

7:00 am - 6:00 pm

Friday

7:00 am - 6:00 pm

Saturday

7:00 am - 5:00 pm

Sunday

Closed