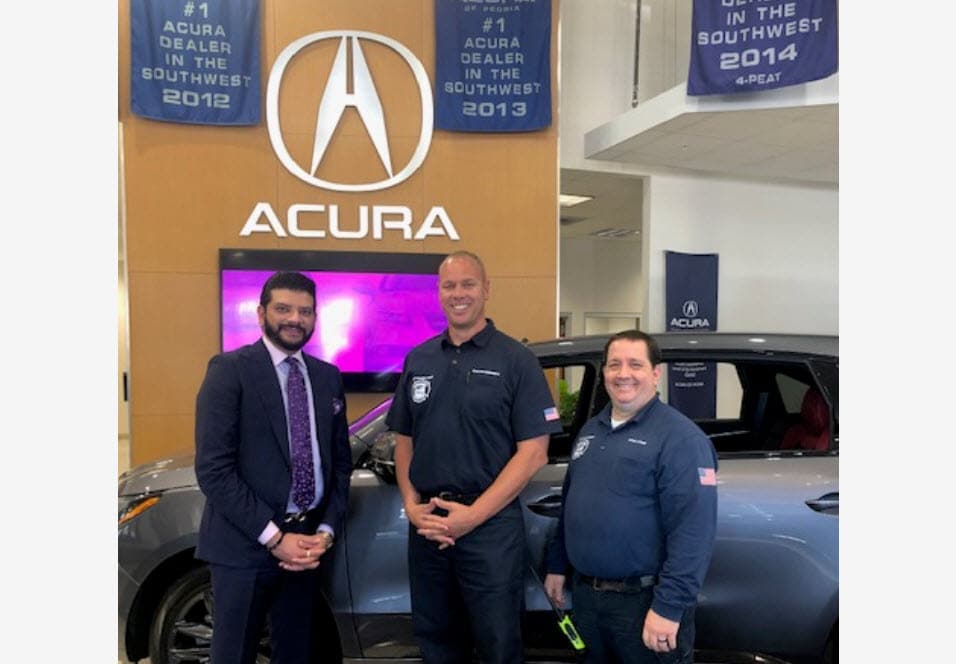 Caption: Pictured are Brijen Dave, General Manager of Acura of Peoria, along with Battalion Chief Justin Gorospe and Fire & Life Safety Education Coordinator Kyle Lane as they arrived at the dealership to accept the masks.

During trying times, it's important to support each other and show that we're truly all in this together. We're proud to be a part of the Peoria family, and the pandemic has proved just how strong and tightknit our community is.
At Acura of Peoria, it's been imperative to us to do what we can to support the community, particularly those on the front line who work essential jobs that keep us protected. In our ongoing efforts to support the City of Peoria's first responders, our dealership donated 300 N95 masks to local firefighters and EMTs on Monday, May 18th.
N95 masks are an important piece of protective wear, and they've been harder and harder to come by. The masks offer a tight fit that can pass a medical fit test, and they are designed to minimize exposure to microscopic aerosols—filtering out at least 95% of airborne particles. N95 masks have also been rigorously tested and evaluated by the National Institute for Occupational Safety and Health (NIOSH).
"In these unprecedented times, it's important for us to have each other's backs, so Acura of Peoria is proud to support our local heroes. We hope our donation has a long-lasting impact on the safety of those who safeguard us," said General Manager Brijen Dave.
This donation follows another effort made by Acura of Peoria to protect front-line workers. Click here to learn about the dealership's police vehicle sanitization event that took place this past April.